How to increase efficiency and really understand your profitability drivers.
If your outsourced bookkeeping service or your own team are still all about completing the Monthly Close you are missing the opportunity to gain the ongoing insight to the profitability drivers of your services business.
Outsourcing to an accounting provider that uses modern cloud accounting software and a continuous close methodology can deliver the continuous project accounting information that you need to run your growing business.
Modern accounting systems can tag transactions with multi-dimensional operational data like Location, Product Line, Service Line, Customer Type & Industry, Project Milestones, Employee, Department, Time, and Expense type that can then automatically generate the dashboards and reports that provide insight to profitability for all aspects of the business.
A continuous close methodology avoids the traditional delays accessing information.  As soon as time sheets, expenses, and project percentage completion or milestones are approved that allows your dashboards and reports to reflect those updates.
The Challenge
Not using these modern capabilities leaves most of your team with a delayed, simplistic and partial view of profitability that prevents them from running the business better.
The Journey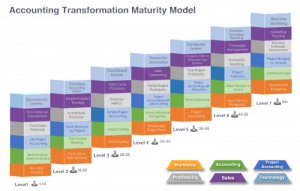 The Next Best Step
Consider a small professional services company with 25 active projects that last on average 6-12 weeks each.  They were running their business with a legacy accounting system with some other stand-alone tools. Once they switched to a service that was using a modern accounting system and a continuous close methodology, they were able to benefit from these 8 key positive outcomes:
Project Profitability including labor costs and corporate overhead allocation
Bookings, invoice and revenue backlog insight by customer, project, etc
Project cash position visibility
True revenue recognition that provides a clearer position of the business without the peaks and valleys that traditionally plague professional services project accounting reporting
Paperless efficiency for CRM, time tracking, expense management and AP document management tasks
Connected and harmonized information flow between systems
Avoided historical delays in access to information that can assist in planning and decision making
Information integrity and accessibility to support continuous planning
The key to growth and transformation is having the right People, Processes and Technology delivering timely visibility and control.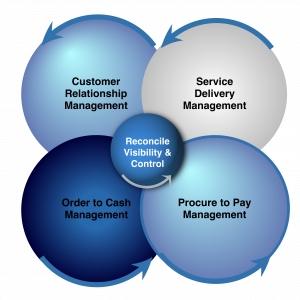 Harmonized Continuous Close Cycles
People – To succeed you need experienced accounting trained people who are efficient using modern accounting multi-dimensional accounting software and continuous close processes and can guide your team on their growth journey. You need a technology team that understands todays modern tools and informational flow design and how to assemble them efficiently to deliver a connected accounting environment
Processes – The information design and process flows need to align with your growth objectives. Modern software capabilities and designs are required to support the increasing complexity of your business processes as it grows.  Accounting and operational processes need to be designed as an automated and connected information flow so that real-time information is being provided accurately and timely.
Technology – Modern native cloud software allows multi-dimensional data to be captured and tagged at the source. Dimensions like Location, Product Line, Service Line, Customer Type & Industry, Project Milestones, Employee, Department, Time, and Expenses.
Visibility – Is achieved when dashboards and reports are auto-populated by a modern system that is managing the integrity of both your financial and operational data.
Control – Controlling information inputs and using validation and exception dashboards guide your team so they can make timely decisions and achieve your business objectives.
Now a management team can review and drill down into true financial and operational information without waiting until the end of the month and they can do so on a device while waiting for a plane to start boarding, or while they are on the weekly operational call with their team.
The outsourced fractional expertise is available and affordable for growing professional services firms.
The approach described is what made it possible for the executive team of our example Professional Services team to increase their Profitability IQ and start driving their business by the numbers.
Book a Consultation– for a FREE assessment and personalized Roadmap for Transformation of your Financial Operations
Read another Blog Post- "Mapping Out Your Key Milestones on the Journey to Frictionless Financial Operations"