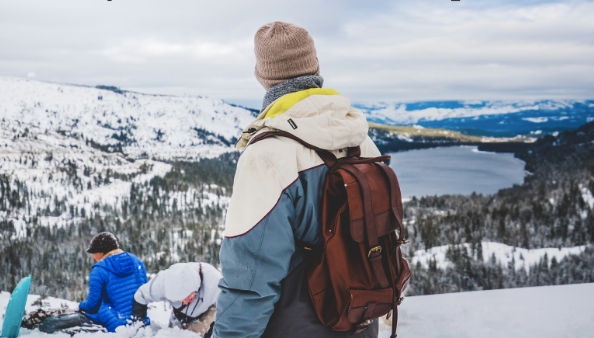 How to evaluate your Financial Operations situation and target key transformation milestones over the next two years against a Maturity Model to create your roadmap to success.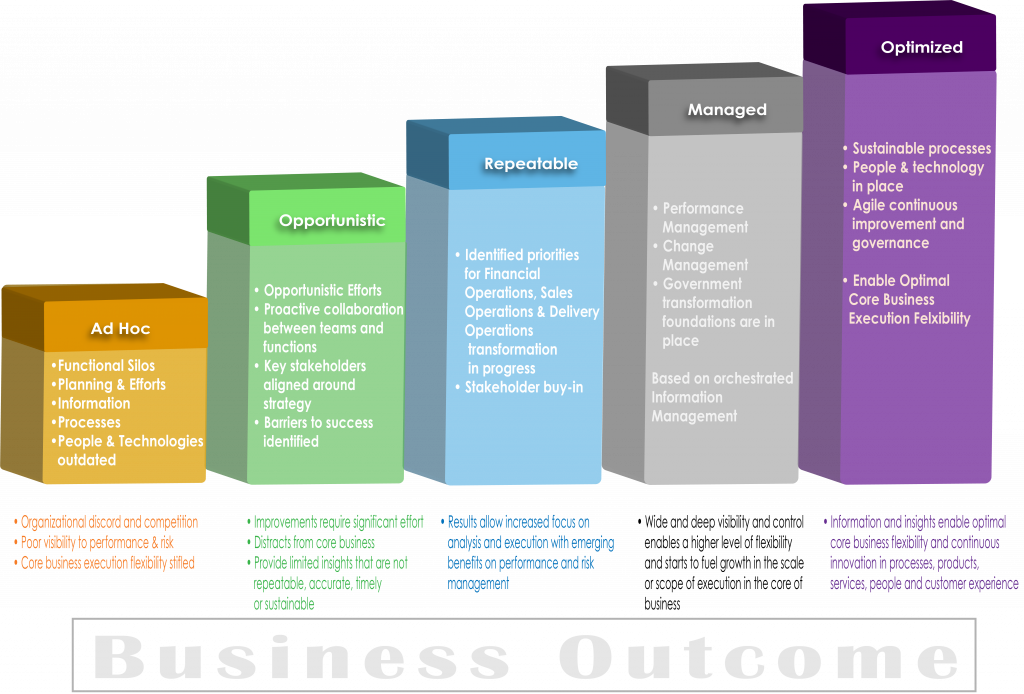 The first step in road mapping where you want to go is to identify where you are now against a relevant transformation model. To help us think through our own situation sometimes it is helpful to hear from others –
Evaluating our Process
Pains: "Our process was inefficient due to data entry, paper and spreadsheet intensive work within and across systems. Poor efficiency resulted in errors, rework, delays and cost."
Obstacles: "Reworking our process ourselves was a daunting task that required a combination of cross functional operations, accounting and software expertise and time that we didn't have."
Options: "We considered using IT consultants but they didn't really understand our business and were charging by the hour to educate them on how we do it today rather than showing us how it should work to support our needs today and in the future."
Solution/Benefits: "We needed access to resources who understood our needs and had the experience and process models for the cross functional operations, accounting and software components that met our needs."
Evaluating our Design
Pains: "Information across systems was not easy to share or consolidate resulting in the inefficient and inaccurate use of spreadsheets to consolidate data across systems."
Obstacles: "Because the systems were acquired over time they were used in silos. The data and flow were not designed to be harmonized and synchronized between them."
Options: "Different vendors and consultants were recommending that the system they were selling would be the answer."
Solution/Benefits: "Our path was to use a technology independent approach with the idea of a harmonized design incorporating proven Systems of Record, Master Data and simple synchronization using modern SaaS software."
Our Technology
Pains: "Because our systems are not procured or implemented to work together we find that maintaining, enhancing and integrating systems is expensive and a huge resource suck."
Obstacles: "The problem is that our systems are not designed and orchestrated to work together efficiently. The resulting lack of flexibility was impacting our efficiency and growth."
Options: "We knew there were different options for cloud All-in-One Suites and Best-in-Class products that we should be considering."
Solution/Benefits: "From talking to other businesses we knew that the benefits of reducing friction in our FinOps would be a huge benefit by allowing us to focus on our core business."
"We decided that we needed to be guided through the technology selection decision process by a team that understood our needs and implemented and managed the technology as we climbed a staircase of phased technology adoption that aligned with our business plans."
Our People
Pains: "People and teams were working at cross purposes, and sometimes in competition for resources, and there was frustration with the need to use spreadsheets to consolidate data across systems because the information is duplicated.
Obstacles: "Due to challenges with our information, systems and processes our people were often working cross purposes."
Options: "Everyone knew there had to be a better way available and our team was frustrated that we were not investing in doing something, anything with any number of approaches to make help them achieve and avoid unproductive work."
Solution/Benefits: "Our solution was to bring in expertise as a fractional extension of our team that led us on a phased journey that achieved the incremental improvement aligned with our business priorities, even as they continually changed."
If you have done your own evaluation already then your Next-Best-Step will be to refine your own Financial Operations Maturity Model and start road mapping how and what it will take to get from your current state to your future state over the next 2-3 years.
If you haven't done an evaluation then stay tuned for our next blog where we will introduce a simple self-evaluation tool to get you started. From there we will revisit Client benefits before we head into a series of discussions about Road mapping your journey to frictionless Financial Operations Excellence.
Conduct a low risk Evaluation. Do you or your team have a solid roadmap for your process, people and technology improvements? If not request your FREE EVALUATION today.
Book a Consultation– for a FREE assessment and personalized Roadmap for Transformation of your Financial Operations