Technical System Content Documentation Specialist -100% Remote
About IFI Professionals (Incubator Finance):
IFI has embraced technology and integrated various platforms to provide comprehensive financial insights to our diverse clientele. Utilizing Sage Intacct for Accounting/ERP and Planful for Continuous Planning, along with integrating our CRM tool Salesforce, demonstrates our commitment to staying at the forefront of innovation in the financial and business intelligence space. By combining cutting-edge designs and advanced technologies, we are offering our clients a unique and valuable experience and insights that set us apart from traditional approaches. The ability to offer business insights that were not previously available is a game-changer for our clients, as it enables them to make data-driven decisions more efficiently and effectively.
What it Means to Share the IFI Experience as an Employee.
We've created a positive and supportive work environment at IFI Professionals where employees have a sense of belonging. They feel they are part of a supportive community within our organization, where employees feel respected, and listened to, and have opportunities for constant growth and learning. We are proud to have a diverse employee population, which speaks to the importance we place on creating an inclusive workforce. By embracing diversity, we know it not only fosters a culture of respect but also brings together individuals with unique perspectives and backgrounds, which leads to enhanced creativity and problem-solving.
Our people practices align with modern best practices in human resources. This approach not only contributes to higher job satisfaction and motivation but also promotes a positive work atmosphere where employees can thrive. By being recognized as one of the Top 100 Best Employers by Fortune Magazine and a Great Place to Work for three years in a row, it showcases our consistency and dedication to prioritizing the well-being of the whole person. The fact 100% of our employee population views IFI Professionals as a great place to work, compared to the significantly lower national average, speaks volumes about our people practices.
Position Overview:
Are you ready to take the lead in our dynamic world of technical documentation? This is your chance to make your mark! We're seeking a Technical System Content Documentation Specialist to spearhead our efforts in creating, implementing, and managing documentation related to best practices for applications and integrations.
As our ideal candidate, you'll be the expert in documenting our content practices within our suite of applications and integrations, including Salesforce, Sage Intacct, and Planful. Your mission? To ensure that our process documentation evolves seamlessly as our products update and new situations arise. If you're passionate about working in an entrepreneurial environment, have strong attention to detail, and have a technical background, this opportunity is tailor-made for you.
Responsibilities:
Content Standards Development: Establish and implement content standards across all application and integration processes, while focusing on quality. Engage with implementation teams to understand and document their approaches.
Documentation Creation: Produce high-level and detailed documentation outlining integration processes and best practices. Work closely with technical teams to understand software designs and convert these into comprehensible documentation. Develop flowcharts to visually represent designs and processes.
Training Program Development: Convert process and best practice documentation into actionable training programs for internal teams. Collaborate with others to ensure accurate delivery of content. Update training materials in line with any software or process updates or changes.
Project Management: Oversee the full life cycle of the documentation project, ensuring timely deliverables and milestones. Coordinate with multiple stakeholders, gathering their inputs and ensuring their requirements are met.
Knowledge Documentation Program: Establish a process where other stakeholders can generate and maintain documentation as new applications and integrations are introduced or updated.
Adaptation: An ability and willingness to learn new technologies, and integration methodologies as we continue to grow.
Collaboration: Work closely with integration and software teams to remain updated on product changes and updates. Participate in team meetings, contributing expertise related to documentation and training best practices.
Requirements:
Bachelor's degree in a related field (e.g., Technical Writing, Communications, IT).
Prior experience in creating technical documentation in the software or integration space is preferred.
Knowledge of Salesforce, Intacct, Planful, and integration platform, preferred.
Strong ability to convert complex technical jargon into comprehensible documentation.
Experience with flowcharting tools or software.
Strong project management skills with a proven track record of managing multiple tasks simultaneously.
Ability to collaborate with diverse teams and gather information from multiple stakeholders.
Exceptional written and verbal communication skills.
Basic understanding of accounting and finance processes is strongly preferred.
You'll Love Working Here Because:
The Diverse Culture - We believe that we make better decisions when our workforce reflects the diversity of the communities in which we operate. We strive to recruit and retain the brightest and best employees as we continue our journey forward.
The People - You will be surrounded by some of the most talented, supportive, smart, and kind leaders and teams -- people you can be proud to work with!
We Care Deeply - We take time to be present and partner with our team and communities.
Constant Learning & Innovation – We offer an environment where you are constantly learning, and innovation is part of our culture and success.
We value and show our appreciation for our employees in many ways. There are several benefits that IFI Professionals provide in addition to a base salary that contributes to an employee's total compensation package. Our compensation structure is designed utilizing salary bands, which promote internal growth, personal development, and the ease of moving from one position to another. Salary bands are naturally large, because of the different types of roles that fall under a single band. Someone's salary is dependent upon the level of experience they bring to the position $82,000 - $112,000.
Award News
We are proud to announce we've received multiple employment and organization awards in 2022. This is not the first time the Company has been recognized. The first award was back in 2020 and was issued by the Orange County Business Journal for being one of the Best Places to Work in the community. When Covid hit, we decided to move towards a 100% remote environment. By doing so, we were no longer eligible to participate in the same program, so we set our sights on larger competitions that had a focus throughout the United States.
The first certification received in 2022 was "The Great Place to Work Award" where we were competing against other small businesses throughout the United States. Based on employee survey feedback, our employees recognized us specifically for our unique culture. Also, since we were in a 100% remote setting and had taken specific steps to ensure everyone felt connected, we entered a competition with other 100% remote organizations throughout the US and we came in on the top of that competition. Finally, was the competition for Fortune's list of the Top 100 Best Small Workplaces. Each year, Fortune Magazine evaluates companies of a variety of sizes, types, and a select few make their list of Best Places to Work and we are very proud to have made this list too.
Each of these awards demonstrates our commitment to creating a unique employee experience by offering a better work/life balance, a diverse and accepting culture, open communications that flow down to up and up to down, and an on-going learning environment. In addition, we take extra steps and offer several programs that go up-and-beyond what other employers offer. We want to make sure the "IFI Employee Experience" is a positive and unique one, just like our customer experience.
Everyone is treated with dignity and respect. They go up and beyond what an average employer does to make everyone feel like they are part of a team and make you feel special. The onboarding even included a welcome package.
Great team bonding events to make us feel connected even with employees located all over the country. Management is supportive in helping you achieve your goals and building the skillsets needed for where you want to take your career.
IFI has created an environment that gives employees all the necessary tools to succeed in their current tasks, and also grow in different avenues. While there is the expectation that all employees work hard, …Read More
Company culture is like no other. I've worked in both the public and private sector and this company goes above and beyond. Every employee knows they are valued. Even in the midst of the Covid-19 pandemic, …Read More
They treat you as a person/human being. They reward each individual. They care, bottom line. They do not discriminate.
Love this place, they treat me very well, I love the flexible work environment that provides me with a satisfying career where I am constantly learning, great people to work with and fun place to work. …Read More
The company places trust with its employees to make the right decisions. It cares for the team's well being and ensures that everyone is comfortable in their role.
The culture is a very close-knit, family type where it's easy to get to know others.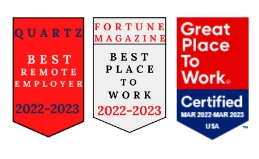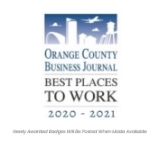 The company strives to allow for a good work-life balance and frequently holds company events to show their appreciation. We are encouraged to build good relationships with one …Read More
The organization treats the employees with respect and as peers rather than as cogs in a machine. The people that work here all share common goals and values and it's very easy to get along with and work with …Read More
The way management treats and values their employees is above and beyond what I have seen from other companies.
They are great at focusing on team building, focusing on career path for each employee, great work-life balance, support from team-members and supervisors while also having the freedom to work without …Read More
It puts an emphasis on individual well being and personal priorities. It's all about culture here. It's the most important thing to most people these days to make sure they aren't just sitting at a desk working. …Read More
This company is a team. They are all wonderful people who really make an effort to treat all of us equally and beyond fair. I've received a promotion during covid. I've received flowers when a close …Read More
This organization actually cares about their employees.
This organization fosters a sense of community and family for their employees. The owners communicate on a weekly basis with all employees to keep us apprised of changes within the organization …Read More
Management is top notch and they really put thought into team building events and little things that let the employees know they are thinking about them every now and again.
Keeps employees engaged and encourages work/life balance.
Truly care about each employee, let you take initiative on things and don't micromanage, provide a great "remote" environment where still feel connected to others.